To make the very most of the vast Porte du Soleil area, just ask one of our seasonnaires for their knowledge on where is best to ski/board given the conditions on the day; they know their stuff!
Skiing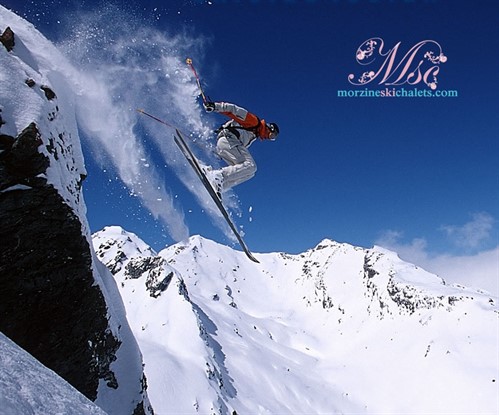 It is fair to say that most people associate the French Alps with skiing, and snowboarding of course - don't worry boarders, your own section is below!
Morzine is the ultimate gateway to the Portes du Soleil, which really is any keen skiers' paradise. Also given its enormous size, the well-used phrase 'there's something for everyone' genuinely applies to it!
To truly appreciate the area, we would recommend that you try it out -the below figures should be enough to convince you to jump for your boots…
650km of piste, made up of 266 runs
243km of cross country trails
206 lifts connecting 12 resorts, 7 in France, 5 in Switzerland
Highest point at 2466m, lowest at 1000m
To make this the perfect combination of skiing and value, this whole area is available under one ski pass!
Whilst the incredible size of skiable area makes skiers salivate at the mere thought, the difficulty of navigating your way round and making the most of the pass springs to mind. Fortunately, there are 12 discovery routes placed around the Portes du Soleil which are well mapped out, give you a time estimation and are marked by a different alpine animal! They usually take two and a half hours and vary in difficulty - yet for the real challenge seekers, the Portes du Soleil circuit is for you! 80 km of piste in one day, skiing in two countries and you will not use the same lift twice! We recommend you get a good night's sleep before it - you will need it!
See Ski Pass Prices and Information
Snowboarding
What makes a snowboarder happy? How about an area which offers very few cat tracks and no tough traverses? Oh, and then throw in 5 snow parks and boarder cross courses, along with an amazing chair lift network and you will be hard pushed to find many disgruntled faces!
Morzine offers the perfect location to allow boarders to take full advantage of this snowy heaven, with its central position in the Portes du Soleil and very close proximity to Avoriaz, one of Europes top snowboard areas. It has 5 snowparks, catering for the complete beginners to freestyle to the absolute experts. There is also the Avoriaz Super pipe - a massive 120m long half pipe, which is regularly the host of many large events! The half pipe is only a short chairlift from the town, which is also close to another park called 'The Stash', which uses natural materials in the woods of Avoriaz to create a series of jumps and rails - as if off piste wasn't enough fun already!
Of course, Avoriaz isn't the only board park, the other 4 can be found in Chatel, Les Gets, Morgins and Les Crosets! Keep your board waxed; it's going to cover a lot of snow during your stay - and maybe a bit of air too!
Another huge boarding attraction are the 5 fantastic boarder cross courses dotted around the Portes du Soleil. These courses are seriously fun, and of course take serious nerve, but that's all part of it! And with the option to race up to 4 people at a time, get ready for your friends competitive sides to be exploited!
See Ski Pass Prices and Information
Ski Hire
Again, avoid queuing on day one when you could be enjoying the morning's fresh powder or groomed corduroy piste. If you pre-book your ski gear it will be delivered to your accommodation, at your convenience. Don't be conned into thinking some Ski Hire Shops are offering unbeatable 40/50% discounts, when your bottom line bill is equal to your friends who went to All Mountain Rental.
We continue to work with them because they are not only convenient and reliable but also offer great value, quality equipment and a fantastic service.
For all our guests, we recommend All Mountain Rental. All Mountain Rental is just next door to La Caleche apartments and offer a free delivery service to all properties.
Ski Lessons
Skiing is a fantastic sport and it can be picked up very quickly - however in order to do so you will need to learn the basics first!
It is important that you get professional tuition when you start out, as proper technique is very important when skiing or snowboarding and the skills you learn will last with you for life. And of course your instructor will have the expert knowledge of where is suitable for beginners, so you won't face the chance of going up that ski lift to the black runs…
We recommend the following ski schools, please click on the links for details and prices.
When you are booking with any of them, please mention Morzine Ski Chalets to ensure a good deal!
BASS - 'British Alpine Ski and Snowboard School'
Freedom2Ski - British run. Ideal for all levels of skiers, from beginner or nervous imtermediate to experienced / expert skiers looking for off-piste lessons & guiding
ESF Morzine - French ski school perfect for kids and apprehensive beginners
Avoriazalpineskischool.com - situated up in Avoriaz ideal for all abilities