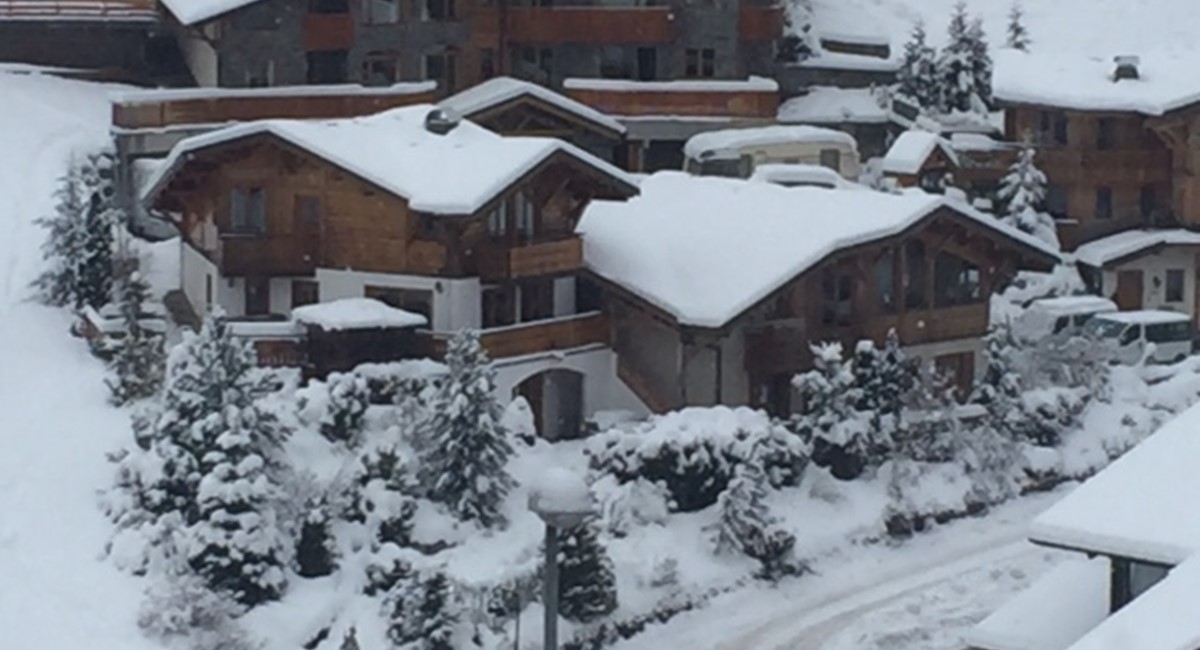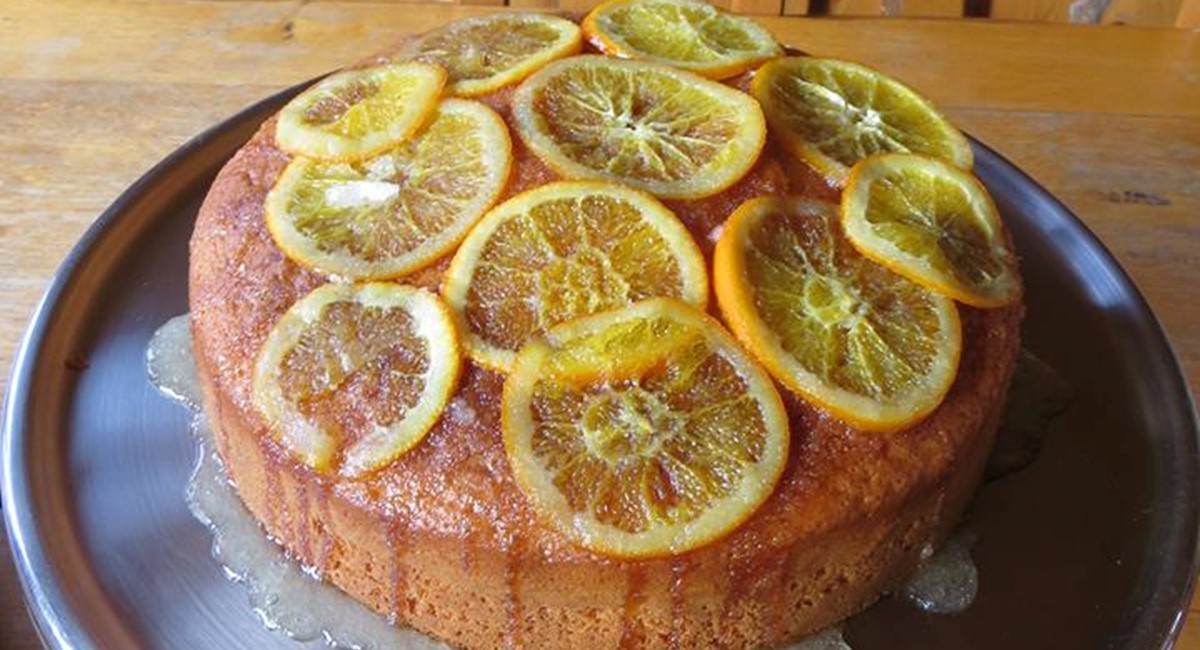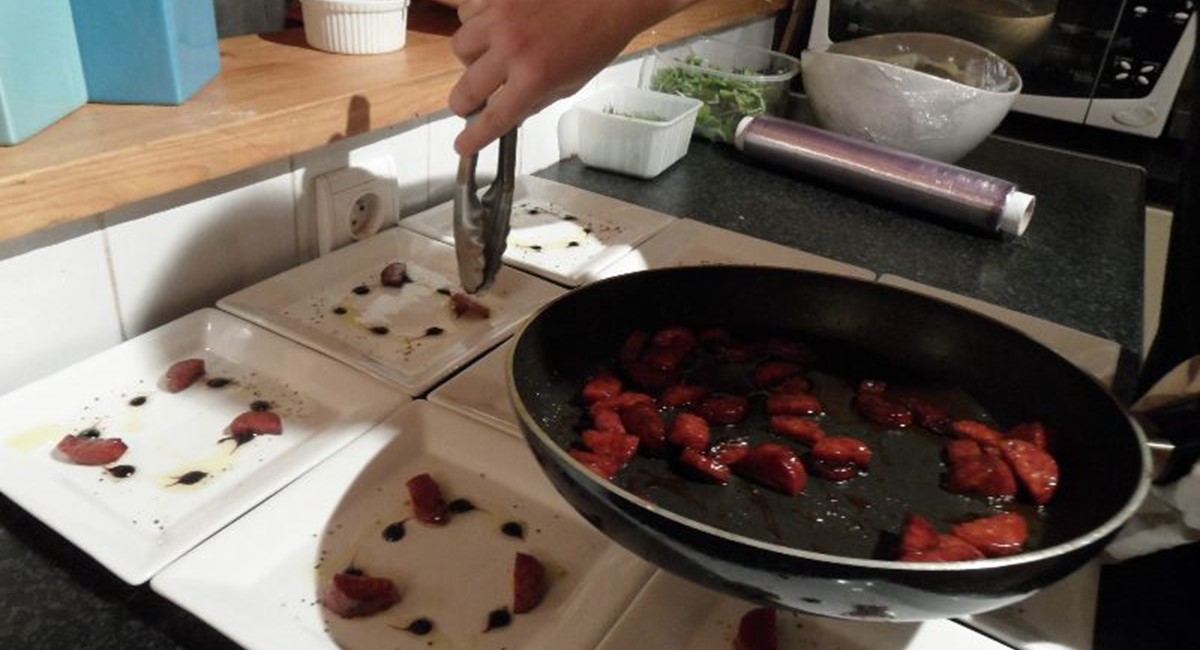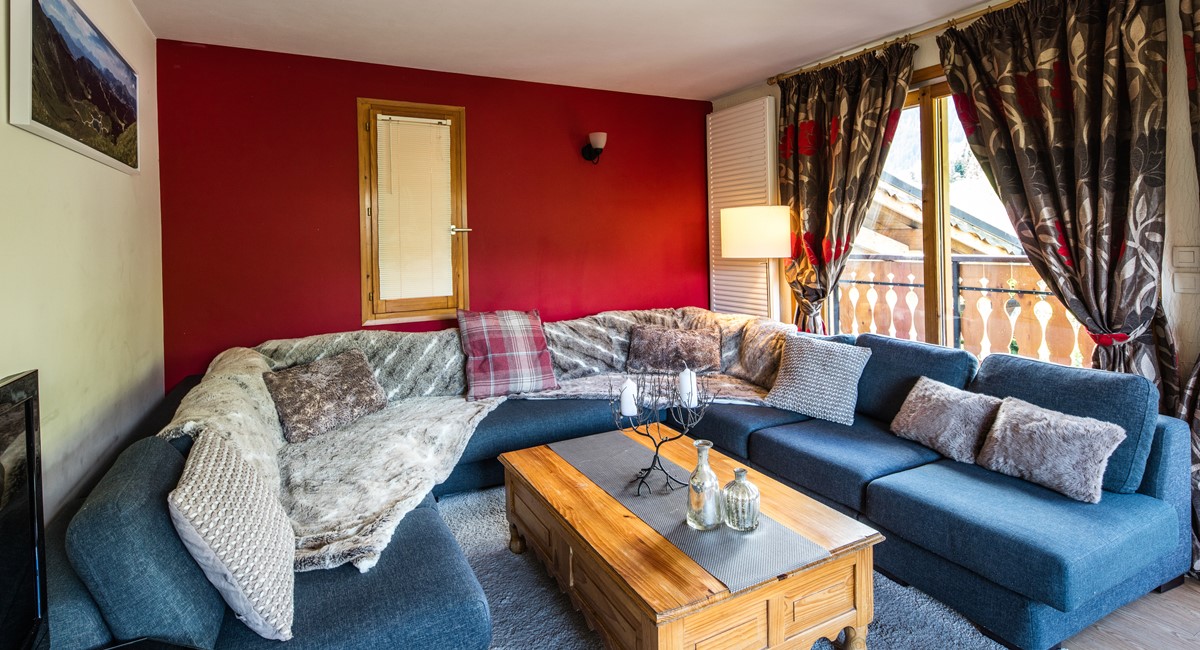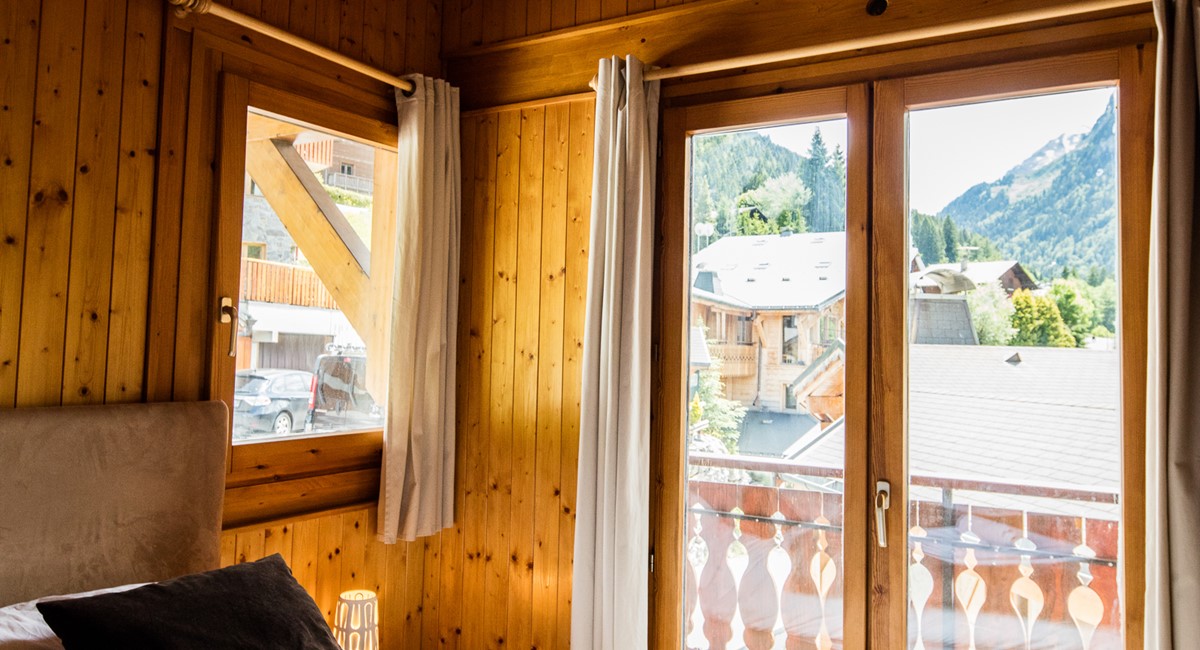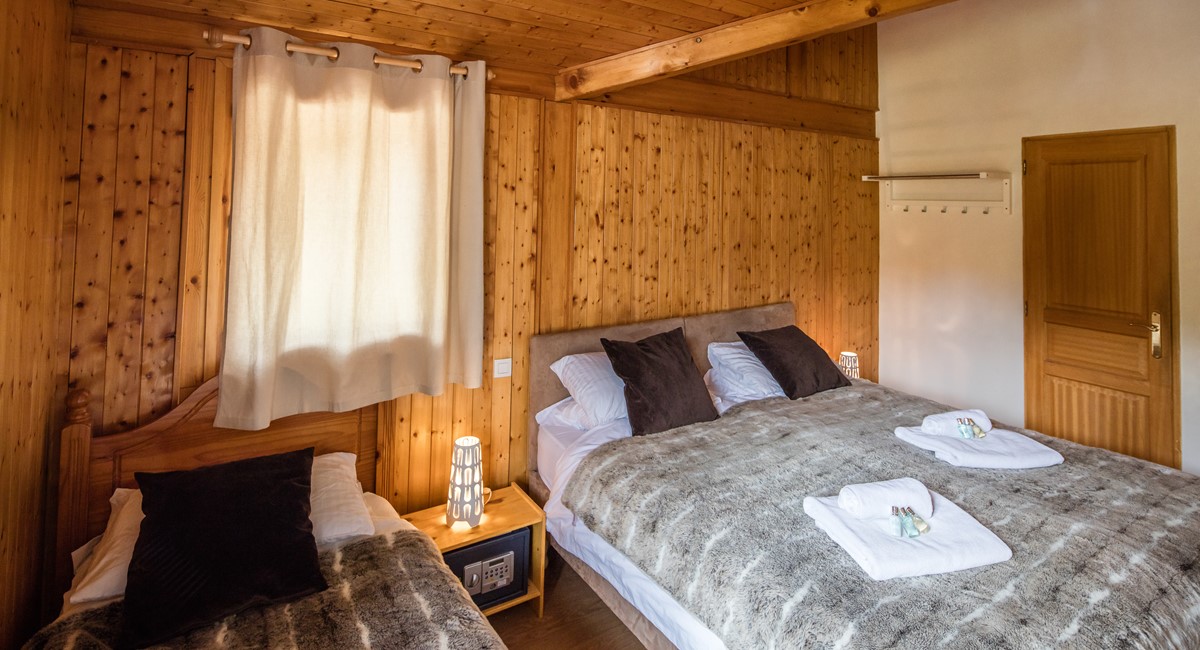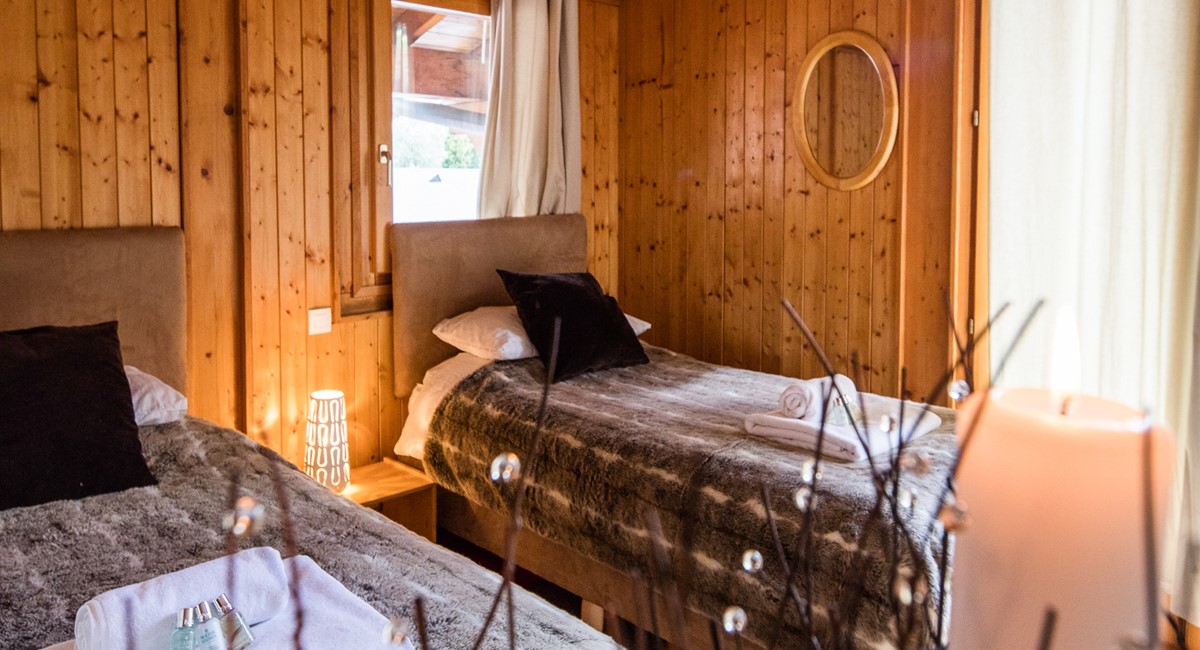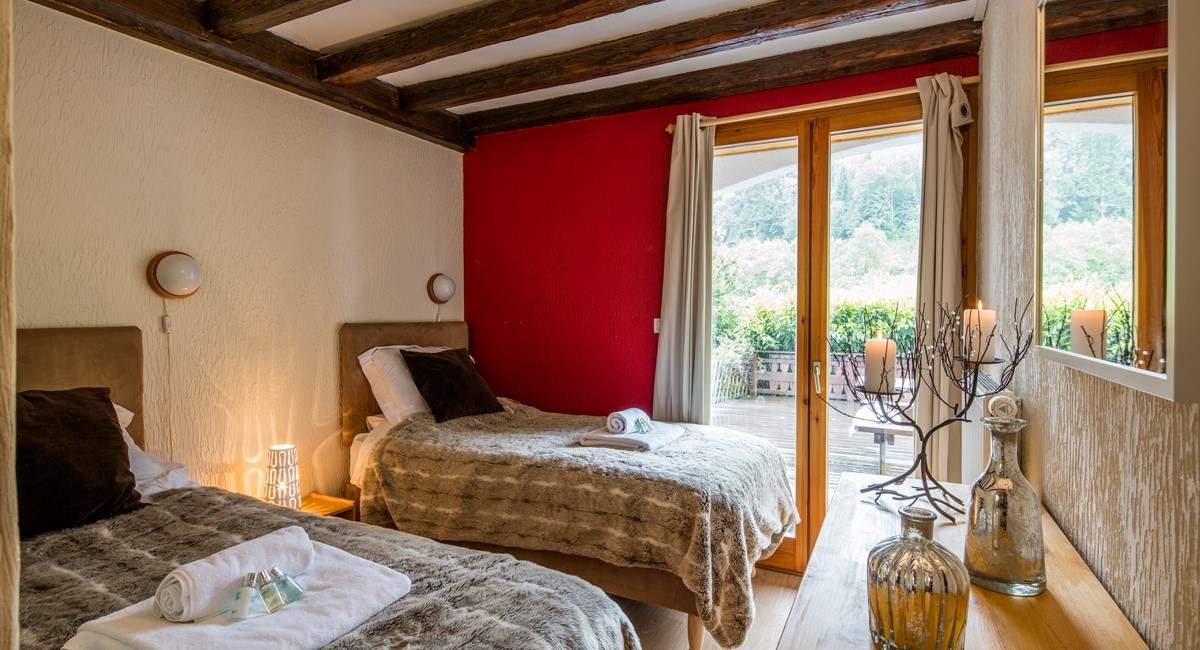 Chalet Chantelle - Stunning large 7 bedroom chalet
Chalet Chantelle is a beautiful cosy chalet sleeping 14/16 people comfortably. This is a fully catered chalet serving quality food and wine and our staff offer a high level of service ensuring you have a wonderful and memorable stay. The chalet is located a short 5 minute walk from Morzine town centre.
Chalet Chantelle - sleeps up to 14/16 in 7 bedrooms and each bedroom has its own bathroom. The chalet spaced over 3 floors:
Ground floor has 1x double room with an ensuite shower and access to a bright terrace, a triple room (three single beds) with an ensuite bathroom and a small double/twin room with a ensuite shower.
First floor - Main entrance which leads into an openplan lounge, dining, kitchen area with large windows and french doors allowing you to take in the stunning views. You access the garage from this floor which offers storage for ski equipment, heated boot dryers, bikes etc. From the lounge area French doors allow access to teh hot tub on a large deck area.

Second floor - 1x double/twin room with an ensuite bathroom, 1x twin room with an ensuite bathroom, 1x triple room (three single beds) with an ensuite shower, 1x twin bedroom with an ensuite shower. All the bedrooms on the top floor have their own private balconies.
Chalet Chantelle is perfectly situated in Morzine, a short walk into town, the nearest ski lift is about 500m away and there is a free ski bus stop just 50m away. The chalet is run as a Catered chalet in the winter months and self catered during the summer months and it can be booked pre room or per full chalet just enquire for an accurate individual quote.
Rental & Booking Information
Wifi is a free service.
The price quoted is based on two people sharing. Please contact us directly for a single person quote.
Summer
The hot tub is an additional cost during the summer months - £57/€65week
There is an additional end of stay cleaning charge = £60/€70
During the summer when the property is self catered a £300 security deposit is taken with your balance payment, to cover any damages or breakage that may occur during your stay. This is returned to you after your stay.
Couple or Group Booking?
If you wish to book an individual room or a group of rooms please click here to complete the contact us form.
Prices from

£

Theme:

Family Luxury Quiet

Media:

Flat Screen TV With Sky iPod Compatible Sound System

Swimming Pool:

Outdoor Hot Tub

Bedrooms:

7

Bathrooms:

7

Sleeps:

Up to 16

Nearest Airport:

Geneva (GVA)

Amenities:

BBQ Satellite TV Internet Access DVD Player Stereo System Dishwasher Washing Machine Central Heating Wi-Fi Outdoor Hot Tub Parking En-Suite Bedrooms
| From | To | Week (£) | Occupation | Min. Rental | From | To |
| --- | --- | --- | --- | --- | --- | --- |
| 13 Dec 2020 | 19 Dec 2020 | 6,105 | | 7+ nights | Sunday | Sunday |
| 20 Dec 2020 | 02 Jan 2021 | 8,220 | | 7+ nights | Sunday | Sunday |
| 03 Jan 2021 | 16 Jan 2021 | 6,105 | | 7+ nights | Sunday | Sunday |
| 17 Jan 2021 | 23 Jan 2021 | 6,545 | | 7+ nights | Sunday | Sunday |
| 24 Jan 2021 | 13 Feb 2021 | 6,875 | | 7+ nights | Sunday | Sunday |
| 14 Feb 2021 | 20 Feb 2021 | 8,220 | | 7+ nights | Sunday | Sunday |
| 21 Feb 2021 | 06 Mar 2021 | 6,875 | | 7+ nights | Sunday | Sunday |
| 07 Mar 2021 | 27 Mar 2021 | 6,545 | | 7+ nights | Sunday | Sunday |
| 28 Mar 2021 | 10 Apr 2021 | 6,875 | | 7+ nights | Sunday | Sunday |
| 11 Apr 2021 | 24 Apr 2021 | 6,105 | | 7+ nights | Sunday | Sunday |
| 06 Jun 2021 | 18 Sep 2021 | 1,500 | | 7+ nights | Sunday | Sunday |
Cot Hire - £0
Cots are provided free of charge. Cot Linen is also supplied, however you are welcome to bring your own.
High Chair - £0
Highs are provided in the property on request, free of charge.
Return Transfers from Geneva Airport - £50.00
Return transfers to and from Geneva airport. Cost based on per person/per seat. If you require a transfer pick up from somewhere else please request availability and price.
Gourmet Meals for self-catered properties - £18.00
Gourmet Meals - have restaurant quality food delivered to your door. A 2 course evening meal freshly prepared each day and left in your fridge for you to just heat and serve when you return from the slopes. Cost = £18.00/person/evening Available 5 nights a week (Mon, Tue, Thurs, Fri and Sat) Note - please enter how many meals you require in total throughout the week and notify us with which evenings you require.
Lift passes - £0
Lift Passes - if you would like to pre-book these so they are in the property on arrival, avoiding the first morning queues, please let us know. There is no extra cost for this service and you pay for the passes in resort either via card or cash. Please let us know if you require an adult/child or senior pass, the number of days and if it is to be a full area (PDS) or local area (Morzine/Les Gets) pass.
Ski Hire - £0
Ski Hire - All Mountain Rental Please book your ski hire online with www.allmountainrental.com. They will offer you discount, deliver the equipment to your property for your arrival and collect again after you depart - very hassle free. Just select 'Morzine Ski Chalets' as your operator and then select the property you are staying in. You pay the ski hire company direct in resort. If you are part of a large group you can create an account and then everyone can book their own equipment.
Hot Tub - summer months only - £57.00
During the summer months only, there is an additional service/cleaning charge to use the hot tub in Chalet Sosa, Chalet Narnia and Chalet Chantelle.
security deposit - £200.00
all self catered properties have a security deposit to pay which is returned after guests depart.
Breakfast pack - £15.00
A breakfast pack is a starter pack of food which will be in your property on arrival. cereal, tea/coffee, fruit, yoghurt, milk, bread, butter, jam. This is not a daily delivery service.
End of Stay Clean - Summer only - £60.00
This end of stay cleaning charge is for the summer months only. The cost = £40/apartment or £65/chalet.